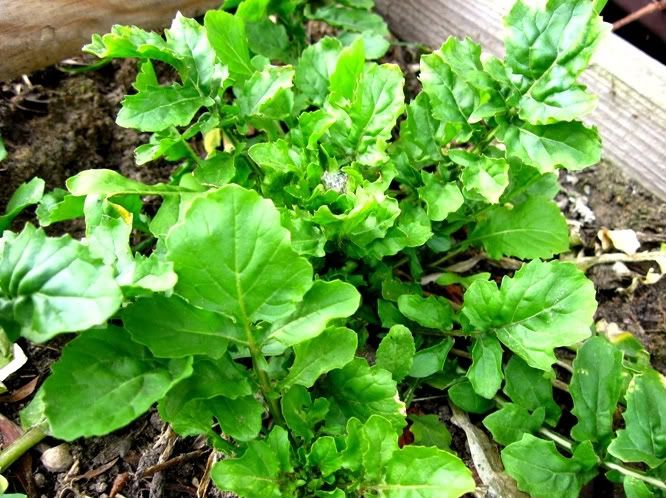 Not everything died during cold winter in my zone 6 - salads were sown in September.
Rucola - elegant and peppery spicy on plate, reliable and winter hardy while growing. Rich in
vitamin C
and
potassium
.
Rucola [Eruca sativa (syn. E. vesicaria subsp. sativa (Miller) Thell., Brassica eruca L.], also known as Garden Rocket, Rocket (British English), Eruca, Rocketsalad, جرجير jarjīr (Arabic), Arugula (American English), Rucola (Italian), Rukola (Slovenian, Polish), Rugola (Italian), Rauke (German), Roquette (French), Rokka (Greek), Roka (Turkish), Ruca (Catalan), Beharki (Basque), Voinicică (Romanian) Rúcula, Oruga and Arúgula (Spanish), Rúcula (Portuguese), Ruchetta (Italian) and Rughetta (Italian).
It gets more famous nowadays, because it will be grown in organic vegetable garden at the White House. Details were revealed last Friday, when
Michelle Obama oficially started the works.
On the White House blog you may also see the plan of garden and all veggies that will be growing for the health of presidential family.
My seeds (bought in Turkey 5 years ago and they still germinate in satisfactory amount) were sown in September. As you see on the picture big, healthy salads has grown while I was dreaming about Spring.
I found also some small carrots, that were hiding from me in the summer.
My organic corn salad (Valerianella locusta) is also winter hardy. Germinated last Autumn and growing straight in the cold garden. Blesses me with freshness in March.
Nutritious corn salad
has three times as much Vitamin C as lettuce, beta-carotene, B6, B9, Vitamin E, and omega-3 fatty acids. Best if gathered before flowers appear.

~~~~~~~~~~~~~~~~~~~~~~~~~~~~~~~~~~~~~~~~~~~~~~~~~~~~~~~
Enjoy this post? Subscribe to get email notifications of new posts.
~~~~~~~~~~~~~~~~~~~~~~~~~~~~~~~~~~~~~~~~~~~~~~~~~~~~~~~