Second part of Summer without Hydrangea flowers in the garden is like Christmas without Christmas tree. If you start to think about it in terms of endless Hydrangea flowers show, you will have no doubts whether to invite it to the garden or not.
Hydrangea is almost careless and if you
prune it properly late winter
, already two years later you get bouquet of flowers standing bold in your garden. Pleasing your eyes and soul.
You want white hydrangea? Here you are. Maybe pink or blue? Mophead? Lacecap? Oakleaf? If you get bored with pink mophead hydrangea, you can make it blue.
Really wonderful plants.
Which one is more beautiful? Are pink Hydrangea flowers superior to blue Hydrangea flowers?
I know I have asked stupid question, but allow me say in public, that despite I love all of them, the blue one is having special place in my heart. And finally I made them blue! Acidic soil makes them blue, but if naturally soil in your garden - like in mine - is neutral, trying to change is like trying to tame the lion - it will always be wild at heart.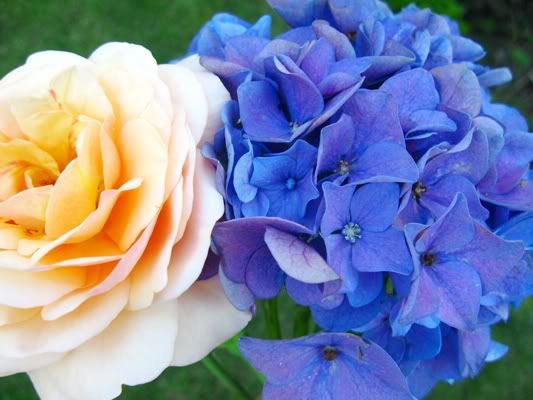 I have tried many things, but the only working one is plain yellowish sulphur, I scattered last fall on the soil around it.
So, blue or pink Hydrangea is superior?